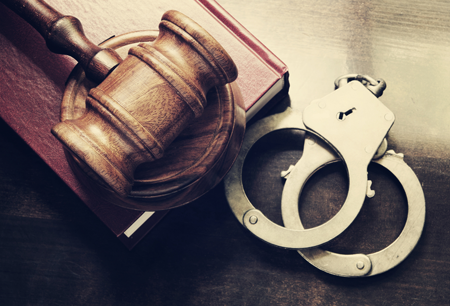 (handcuffs Image from Shutterstock.com).
2 lawyers are arrested in alleged plot to kill another attorney
BY DEBRA CASSENS WEISS
MAY 27, 2020, 9:22 AM CDT
https://www.abajournal.com/news/article/two-lawyers-are-arrested-in-alleged-plot-to-kill-another-attorney?utm_source=salesforce_216247&utm_medium=email&utm_campaign=weekly_email&utm_medium=email&utm_source=salesforce_216247&sc_sid=04851397&utm_campaign=&promo=&utm_content=&additional4=&additional5=&sfmc_j=216247&sfmc_s=86961680&sfmc_l=1527&sfmc_jb=340&sfmc_mid=100027443&sfmc_u=7034177
Two lawyers in Waco, Texas, have been arrested on charges of conspiracy to commit capital murder in an alleged plot to kill another attorney.
The two lawyers charged are Seth Andrew Sutton, 45, a well-known criminal defense lawyer in Waco, and Chelsea Tijerina, 33, who works at Sutton's firm, report the Waco Tribune-Herald and the Daily Beast.
Sutton and Tijerina are accused of seeking the murder of Tijerina's ex-husband, lawyer Marcus Beaudin, who was arrested in February on a charge of indecency with a child. Beaudin's lawyer has denied the allegations.
Sutton and Tijerina allegedly tried to hire a hit man to carry out the killing, but the person turned out to be an undercover police officer. Sources told the Waco Tribune-Herald that the officer infiltrated the motorcycle club that Sutton had led as founding president, the Red Mouse Cult MC.
Police allege that Sutton solicited the undercover officer to kill Beaudin on May 14. Sutton allegedly offered the officer $300 to buy a gun and said he would help him leave town after the killing. On May 21, Sutton and Tijerina allegedly met with the undercover officer, instructed him to kill Beaudin at his home, and gave him $300 to buy the gun.
Sutton and Tijerina were released from jail Tuesday after posting $1 million bonds.
Sutton had represented drunken drivers early in his career and later represented a man charged in the May 2015 Twin Peaks shootout between rival motorcycle gangs.
Sutton and Tijerina are graduates of Baylor University Law School. Sutton announced that he was running for district attorney in December 2017, but he ended the campaign eight months later. Before Sutton went to law school, he lived in New York City where he pursued a career in musical theater.
The State Bar of Texas lists Sutton as a lawyer with Sutton Milam & Fanning. The website was no longer online Wednesday.