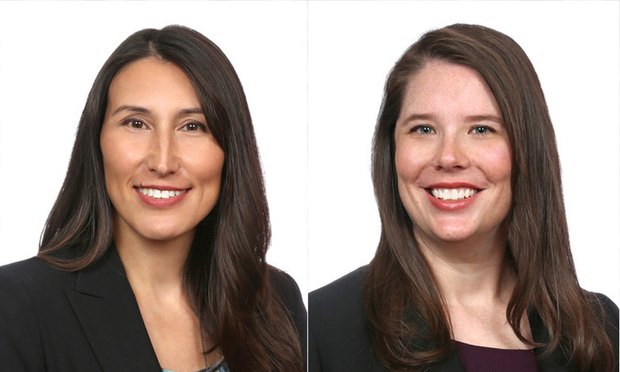 Shari Klevens and Alanna Clair, Dentons. Shari Klevens (left) and Alanna Clair, Dentons. (Courtesy photo)
https://www.law.com/dailyreportonline/2019/01/07/the-seven-deadly-sins-of-lawyers-1-sloth/
By Shari L. Klevens and Alanna Clair | January 07, 2019 at 10:56 AM
Legal malpractice claim avoidance and compliance with ethical norms constitute a significant portion of the practice of law. Many firms have attorneys and professionals solely or at least partially dedicated to addressing and resolving potential risks to the practice.
As we begin a new year, the next several articles in this space will address the Biblical "seven deadly sins" through the lens of legal practice: sloth, pride, greed, lust, envy, gluttony and wrath. Even where lawyers and firms take special steps to prevent claims or comply with their ethical obligations, attorneys and firms still create risks for themselves by failing to answer to the better angels of their nature.
Although lawyers, as a profession, are considered to be detail-oriented and hard-working, some common mistakes made by lawyers are a result of a lack of attention. Indeed, attorneys can inadvertently fall into traps or routines in their practices that could increase potential exposure.
Here are some tips for how attorneys can overcome "sloth" and be vigilant about their responsibilities.
Be Aware of the Duty of Competence
Rule 1.1 of the ABA Model Rules of Professional Conduct provides: "A lawyer shall provide competent representation to a client. Competent representation requires the legal knowledge, skill, thoroughness and preparation reasonably necessary for the representation." This is comparable to the typical standard of care owed by attorneys to clients, which, in most states, requires attorneys to exercise the care or skill commonly employed by other attorneys in similar conditions.
To that end, the standard of care owed by attorneys to clients evolves over time. The law changes, technology changes, and what an attorney is expected to know about those subjects changes over time. Thus, attorneys who do not undertake the effort to stay abreast of developments in the law or practice do themselves a disservice.
Many states recognize this need for attorneys to continue to learn about the law by requiring a number of hours each year dedicated to continuing legal education. Even for those states without any CLE requirement (or with a lower requirement), admitted attorneys may still seek out hours of training every year. Such training not only helps attorneys meet their ethical obligations of competence, but it can even be a business development tool for attorneys to attract clients and work.
Attorneys can find training on any number of subjects, from high-level, broad developments in the law to very niche analyses. Because the standard for competent legal representation evolves with time, attorneys can take steps to remain current in those issues that have evolved or arisen since they graduated from law school.
Following legal developments can be quite an undertaking and may require a number of hours of nonbillable effort. However, the sloth alternative is risky one.
Technology Continues to Evolve
It is a common refrain among seasoned lawyers that they are willfully ignorant regarding technology. Although lawyers are often at the forefront of many cutting-edge legal and commercial issues, it sometimes takes years for practitioners to catch up on technology advancements and risks.
However, a failure to educate oneself on emerging technology issues may create risk for the practitioner. Indeed, comment 8 to ABA Model Rule of Professional Conduct 1.1 is explicit that "a lawyer should keep abreast of changes in the law and its practice, including the benefits and risks associated with relevant technology." Thus, attorneys who are dismissive of technology and state that they don't need it in their practice may be creating unnecessary exposure.
Sometimes, in conjunction with the duty to supervise, it is often sufficient for an attorney to work with others who are more competent in or knowledgeable about technological advances. Indeed, it is routine for attorneys to rely on junior attorneys or even staff to review technological issues and advise the supervising attorneys on recommendations or developments. Nonetheless, the supervising attorney may still face exposure if the attorney's team fails to meet expectations.
For example, the legal news is rife with stories about potential risks associated with cloud computing or hacking. Bars often consider this an ethical issue because attorneys have obligations to safeguard confidences and secrets, and sloppy cyber policies can expose clients' secrets.
If a client sues an attorney after a cyber breach and the exposure of secrets, the attorney would be well-served to point to all the safeguards the attorney had in place, showing the reasonableness of the attorney's conduct. However, an argument that the attorney did not really understand the technology and thus did not appreciate or understand the risks is less likely to be successful.
Using a Docketing System
Although deadlines can be missed for any number of reasons that do not indicate an attorney's overall incompetence, a missed deadline is an easy target for a plaintiff's legal malpractice attorney. Attorneys in such situations are then sometimes left to try to prove why a missed deadline is not evidence of negligence but is excused by some additional factor.
Thus, those attorneys who have established, reliable docketing systems to track deadlines may have a better chance of reducing their exposure for a missed deadline because they took reasonable steps to track their obligations. Other attorneys swear by their own "system" of writing deadlines in a diary or calendar, but such blind allegiance to analog ways can suggest that a missed deadline was inevitable.
Although many electronic docketing systems still rely on a human input element, it can be difficult in a modern practice to keep track of all court and client deadlines without electronic safeguards. In addition, using an electronic docketing system often involves many layers of people checking on deadlines and progress, which reduces the likelihood that a single attorney can forget a deadline.
By considering some of these extra steps to go above and beyond the daily grind, attorneys may have some success breaking their habits of sloth.
Shari L. Klevens is a partner at Dentons US in Atlanta and Washington, D.C., and serves on the firm's U.S. board of directors. She represents and advises lawyers and insurers on complex claims and is co-chair of Dentons' global insurance sector team.
Alanna Clair, also a partner at Dentons US in Washington, focuses on professional liability and insurance defense. Klevens and Clair are co-authors of "The Lawyer's Handbook: Ethics Compliance and Claim Avoidance" and the upcoming 2019 edition of "Georgia Legal Malpractice Law."